AVAILABLE FOR TV | PRODUCTION | FILM | BRIDAL | WEDDING | SPECIAL OCCASION | PHOTOSHOOT | EDITORIAL
ON-LOCATION BEAUTY SERVICES (ARTISTS WILL COME TO YOU!)
BRIDAL MAKEUP SERVICES

Bridal makeup and bridal makeup is one of Jenny's speciality and receive daily bridal inquiries. Brides book anywhere from 3-12 months in advance to secure artists.

BRIDAL AIRBRUSH MAKEUP (Wedding Day & Trial) | $285
Includes Full Airbrush Make-up Trial and On-site Airbrush Wedding Day On Location Service, travel to the venue

ENGAGEMENT/ MAKEUP & HAIR $170 both | $95 each
Full makeup and hair styling on location

BRIDAL PORTRAITS MAKEUP & HAIR $200 both |$100 each
Full makeup and hairstyling/updo on location

CEREMONY & RECEPTION | $450
Ideal for Brides that wants to refresh and/or change into a more dramatic makeup look prior to the reception. Includes makeup trial and wedding day makeup (2 looks).

BRIDAL GLAM FOR A DAY | $895
Includes bridal makeup trial and 8 hrs unlimited makeup looks and touch-up.

DESTINATION BRIDE
Services are available worldwide. Bride must provide travel + lodging to the destination wedding.





BRIDAL MAKEUP + HAIR

We have an elite bridal beauty team of hand selected hairstylists and makeup artists to accommodate just the bride or a large bridal party. We will complete a time schedule, travel to your preparation venue and make sure everything flows smoothly on your big day.


MAKEUP+HAIR WEDDING DAY PACKAGE | $495
Includes consultation/trial, complimentary airbrush makeup, and hair styling.
On-location service and travel to the venue.

WEDDING DAY + TOUCH-UP | $695
This package is ideal for brides that may have some tears during the ceremony. We will return after the ceremony to freshen up the Bride's hair and makeup. Face makeup will also be touched up and lips will be re-applied for a renewed polished look prior to being introduced to the reception.

CEREMONY & RECEPTION | $795
This package is ideal for brides that would like a makeup and hair change from ceremony to reception.
Includes (2) makeup and (2) hair look for trial and wedding day. Artists will return to change/touch up the bride.

ALL DAY BRIDAL BEAUTY |$1599
Unlimited Hair & Makeup Changes, Hair & Makeup Touch-up All Day, up to 7 hours after initial application.

GLAMOUR/BEAUTY/COMMERICIAL

Book Jenny for makeup and/or hair services for all occasion: Photoshoots, Parties, Commercial, Editorial, Prom & more...


GENERAL RATES

MAKEUP APPLICATION $95+

MAKEUP+HAIR $160+

UPGRADE TO AIRBRUSH MAKEUP $35

Professional Dinair airbrush system used for foundation, blush, and bronzer

MAKEUP LESSON $175

Includes a two hour one-on-one hands on lesson for skin, brows, eyes, face,

and/or airbrush.

All makeup application comes with complimentary false lash stripes (natural to full). Travel is complimentary 25 miles of center Charlotte, North Carolina. FULL-DAY (7 hr services on-location)

A day rate consists of 7 hours with a lunch break. Makeup Services include artist being on site for any makeup changes & touch ups.

Makeup only Day Rate |$750
Makeup & Hair Day Rate |$850

HALF-DAY( 4 hr. services on-location)

Makeup only | $450
Makeup & Hair |$500
---
All makeup application includes complimentary lashes.
TRAVEL // 25 miles within Charlotte, NC is complimentary. There is a small fee outside of this area. $500 minimal of service per artist if travel is 2+hours away.
PAYMENT // Cash and credit cards accepted. No checks. *Gratuity not included in pricing.


Airbrush Makeup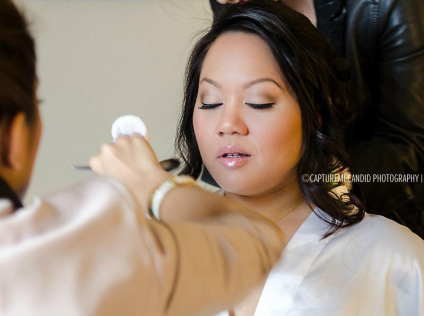 Airbrush foundation is being applied to bride Susan for glowing & flawless skin.
Why is airbrush makeup so popular?
Jenny uses professional DINAIR airbrush system. The foundation,blush, and bronzer is poured into the gun and is finely sprayed out for a weightless yet flawless application.
DINIAR AIRBRUSH BENEFITS:
Hypoallergenic & non-comedogenic
Smudge-proof & long lasting

Flawless coverage (choice of sheer/medium/full)
Beautiful for photos and in person
---