Meet The Artist . . .
Jenny Le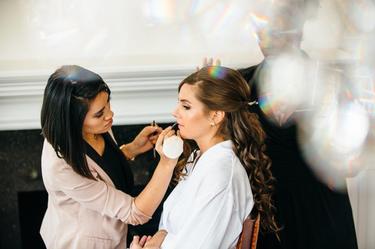 Beauty Professional & Esthetician Sweet Southern Glam artist Based out of Charlotte, NC
WHO IS JENNY LE?
Hello! I am a girl that loves beautiful makeup and hair, foodie, traveling to new places, and an animal lover.
HOW DID YOU GET STARTED IN THE BEAUTY INDUSTRY?
I am a self-taught makeup artist and have been doing what I love with over 9 years of experience. However it is important for me to keep up to date with the latest beauty trends and complete trainings yearly. I received my esthetician license in July 2014 to specialize in lashes, skincare, and waxing.
WHAT IS YOUR FAVORITE LOOK TO CREATE?
I love creating a clean glamourous look with flawless glowing skin, lashes, and just truly enhancing ones already beautiful features.
IF YOU WERE STRANDED ON AN ISLAND WHAT 3 BEAUTY PRODUCTS WOULD YOU TAKE?
1. Lip balm with SPF to keep my chapped lips moisturized and protected.
2. Face powder with SPF 35+ to even out my complexion and protect my face from the sun rays.
3. Mascara and mascara curler (This counts as one right? They totally go together!)
RESUME:
Lake Norman Women Magazine Cover July 2016
Doncaster.com
Taylor Richards & Conger (TRC)
The Rachel Maddow Show on MSNBC 11/2015
The Democratic Presidential Forum 11/2015
Modern Family Dental Care Ad Campaign
Sealed Air Videoshoot
Completed makeup workshop/training with the following celebrity makeup artists:
---
---
As seen on
---
"Jenny really is amazing! I felt the most beautiful I ever have in my life after she did my makeup for our shoot.
Well done make-up doesn't hide you or change you…it just enhances who you are are."
-Megan M.
"Jenny is one of the most bubbly, fun spirited people I have ever met. Jenny is an awesome makeup artist ..you want lashes, big hair, luscious lips and a defined cheekbone…Jenny has you covered! Her talent is immense and her professionalism spot on."
-Brandy(BeMe Photography)